HÜBNER Photonics
HÜBNER Photonics is an international organization with offices in Stockholm, Sweden (Cobolt AB), Kassel, Germany, Hannover, Germany (VALO Innovations GmbH) and San Jose, CA, USA. HÜBNER Photonics is a corporate division of the HÜBNER Group, which is a privately held company with headquarters in Kassel and more than 3 500 employees worldwide. With a recognition for exceptional quality and reliability, HÜBNER Photonics supply lasers to leading manufacturers of analytical instrumentation equipment, to ground-breaking innovative start-ups, as well as to some of the most renowned universities and research labs in the world.
"We provide tools and solutions for advanced imaging, detection & analysis that help to enhance human well-being & security, increase quality and efficiency in industrial processes and improve our environment."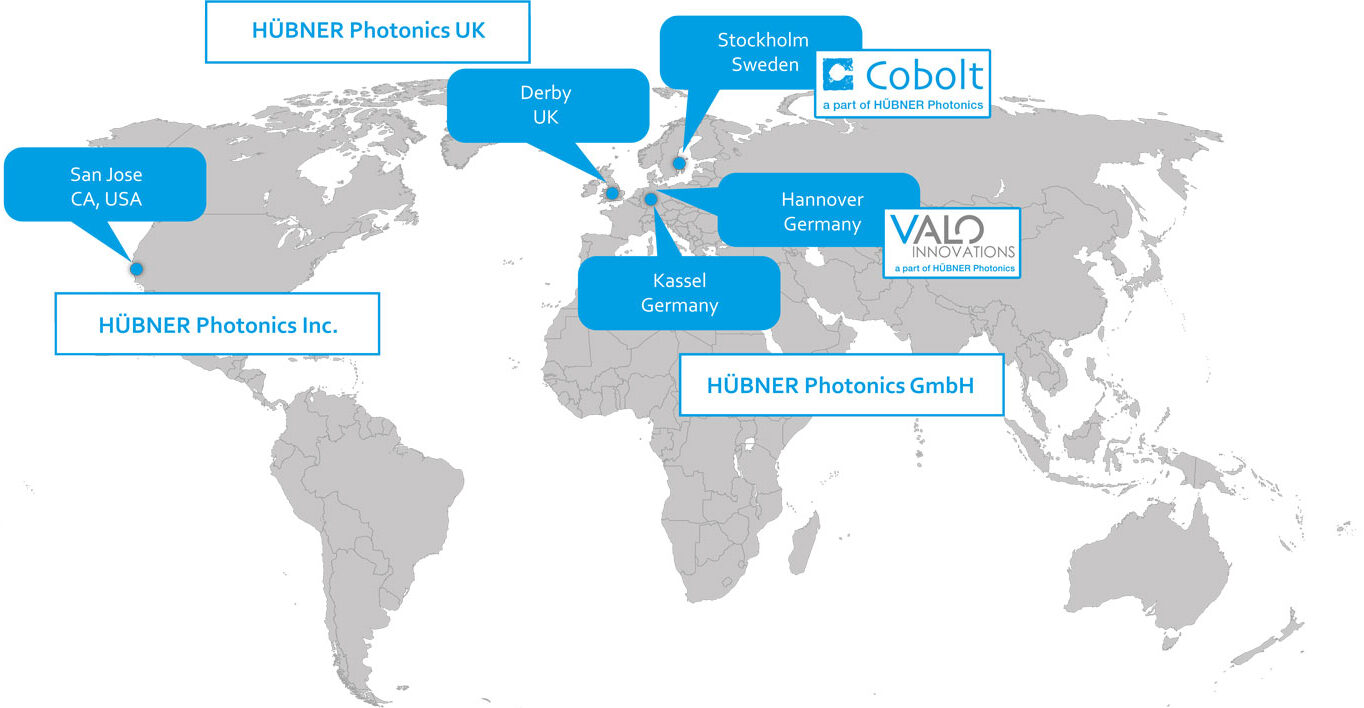 What we stand for
'Two wave sources are perfectly coherent if they have a constant phase difference and the same frequency.'
In a way, this condition sums up everything HÜBNER Photonics division stands for. Coherence for us is far more than the perfect interaction of waves. It is the basis of our daily work and the fundament on which we build our business and our relations within our company and with our partners.
Coherence Matters for our products – since we are committed to supplying reliable, innovative high performance photonics solutions.
Coherence Matters in our attitude – our teams are built up by world-leading expertise in photonics, moving as one.
Coherence Matters in our customer relations – we operate in phase with our customers' needs and therefore stand out by maximizing customer value.
Coherence Matters is in our genes and our spirit – all day, every day.
This isn't just another technology company. For more than 70 years, the HÜBNER Group has been around. More than 3,500 employees worldwide serve customers every day – with an understanding based on mutual respect, honesty and products you can trust. Coherence Matters is in our genes and our spirit – all day, every day.
Our history
The history of the HÜBNER Group goes over 70 years back. Driven by innovation and industrial excellence the company is today serving a diversity of markets, from commercial road vehicles and rail vehicles to airports and photonics with reliable technical solutions and Components. With more than 3,500 employees at 25 different locations worldwide we are serving our customers every day with mutual respect and honesty. And with quality products you can trust.
| | |
| --- | --- |
| 1946 | Founding of the company by Kurt Hübner in Kassel, Germany. Start of rubber production activities. |
| 1951 | Production of the first folding bellows and rubber tubing connections for railway cars of the Deutsche Bahn. |
| 1973 | Change of company name to HÜBNER GmbH. |
| 1990 | Delivery of the world's then largest railway gangway for the car transport trains used in the Eurotunnel between England and France. |
| 2001 | Founding of laser manufacturer  Cobolt AB, as a spin-out from the Royal Institute of Technology in Stockholm, Sweden. |
| 2004 | Market release of Cobolt's first laser products for lifescience and interferometry. |
| 2006 | Diversification into Terahertz technology in collaboration with Fraunhofer Institute. |
| 2007 | Launch of HTCure; Cobolt's proprietary technology for robust laser manufacturing. Build-up of Cobolt clean-room facility for high volume laser production. |
| 2009 | Cobolt AB ISO 9001 certified. |
| 2012 | Diversification into laser technology in collaboration with Fraunhofer Institute. |
| 2013 | Establishing Cobolt Inc. in San Jose, CA USA. |
| 2014 | Winner of the Prism Award and market release for C-WAVE. |
| 2015 | HÜBNER Group acquisition of Cobolt AB. |
| 2016 | Formed new division HÜBNER Photonics, encompassing laser and terahertz activities. |
| 2017 | Introduction of Cobolt Skyra™ and C-FLEX™ |
| 2019 | Expansions of clean-room facilities in Kassel and Stockholm. |
| 2020 | HÜBNER Photonics is expanding with a new dedicated sales and support office for Germany, Austria and Switzerland. |
| 2021 | HÜBNER Photonics acquires VALO Innovations GmbH. |
Facts and Figures HÜBNER Group
| | |
| --- | --- |
| Headquarters: | Kassel, Germany |
| Global presence: | 30 locations around the world |
| Founded: | 1946 in Kassel |
| Number of employees: | More than 3,500 |
secret space
Affiliate history: Cobolt

Cobolt, now a part of HÜBNER Photonics, develops, manufactures and supplies diode-pumped solid-state lasers (DPSSLs) and Diode Laser Modules in the visible, invisible and near infrared spectral ranges.
The company provides a broad range of market-adapted laser products built on a wavelength flexible, power-scalable and robust technology platform. The lasers are particularly suitable for OEM integration, but do also comply with applicable standards and directives for use as stand-alone devices in laboratory environment.
Cobolt is committed to supplying innovative laser products that meet or exceed the market's expectations concerning quality, reliability and performance. The lasers are designed and manufactured to ensure a high level of reliability, and operation of the company using qualified and established processes assures the quality of the company's products.
We maintain world-leading design expertise and proprietary technology in lasers as well as in nonlinear materials. This combination of know-how and IPR allows us to provide outstanding laser modules enabling entirely new customer applications. Cobolt is based in Stockholm, Sweden.
We believe in the importance of quality and our company is certified according to ISO 9000 standards, which represent an international consensus on good quality management practices.
Our vision
Through continuous development of innovative and high-quality products, Cobolt should remain one of the world's leading manufacturer of compact lasers for analytical instrumentation. The company also strives to increase the availability of laser-based equipment that can contribute to an improved quality of life and a better environment.