Diode lasers by Cobolt
The large spectral coverage of our diode lasers combined with the compact form factor, direct modulation capability (up to 150 MHz), true off during modulation (>70 dB aspect ratio), and integrated spectral clean-up filters make them ideal for applications in high resolution bioimaging, flow cytometry, optogenetics and quantum technologies. 
All our Cobolt diode lasers are manufactured using proprietary HTCure™ technology and the resulting compact packages and robust optical assembly provide a very high level of immunity to varying environmental conditions along with exceptional reliability. Lasers built using HTCure™ have been shown to withstand multiple 60G mechanical shocks in operation without any sign of degraded performance. 
With proven lifetimes from many thousands of units installed in the field, the Cobolt diode lasers have proven to deliver unmatched reliability and performance both in laboratory and industrial environments, which is reflected in market leading warranty terms. They are suitable not only for advanced laboratory research but also for integration into analytical equipment used in industrial settings for applications such as bioimaging and flow cytometry.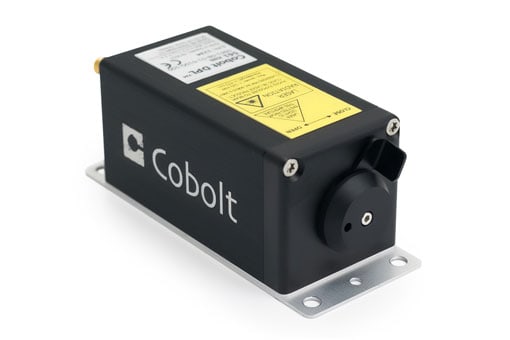 Cobolt 06-01 Series
Plug & play modulated CW lasers
Wavelength: 375 nm – 1064 nm
Power: 40 mW – 400 mW
Applications: Microscopy, flow cytometry, optogenetics