Laser Combiners from HÜBNER Photonics
Laser combiners and laser light engines have simplified the need to integrate and align individual laser sources either onto an optical bench or within an instrument. By offering a single output with co-linear laser beams, the C-FLEX family of laser combiners makes it simple and convenient to deliver up to 6 laser lines simultaneously.
Our C-FLEX laser combiners lets you combine up to 6 wavelengths out of 22 wavelengths available and are highly flexible and extremely compact. The lasers within the combiner can be controlled either separately or via a common USB port. C-FLEX is field-upgradeable and ready to mount DPSS or diode lasers from either of the Cobolt 04-01, Cobolt 06-01 or Cobolt 08-01 Series. The flexible design enables integration of optional AOM modulators that allow fast modulation of DPSS lasers. Free space beam output or fiber coupling options are available. C-FLEX comprises countless options to make it your first choice in laser combiners.
Laser combiner or multi-line laser?
Conventional fluorescence-based bio-instrumentation equipment with more than a single laser wavelength typically uses multiple individual lasers combined through optical elements and coupled into a single beam or an optical fiber. A laser combiner offers the greatest flexibility in all respects, many wavelengths, many power levels, as well as fast and slow modulation. However, for systems and set-ups where flexibility is not the highest priority, a multi-line laser can offer a permanently aligned and maintenance free option.
Our laser combiners are very suitable not only for advanced laboratory research but also for integration into analytical instrumentation for applications such as bioimaging, flow cytometry, Raman spectroscopy, holography and optogenetics.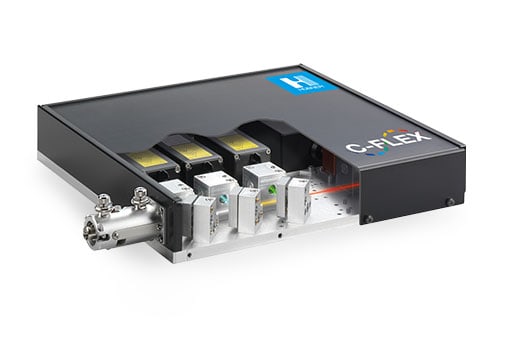 C-FLEX
The compact and flexible laser combiner
Wavelength: 405 nm – 1064 nm
Power: 50 mW – 1000 mW